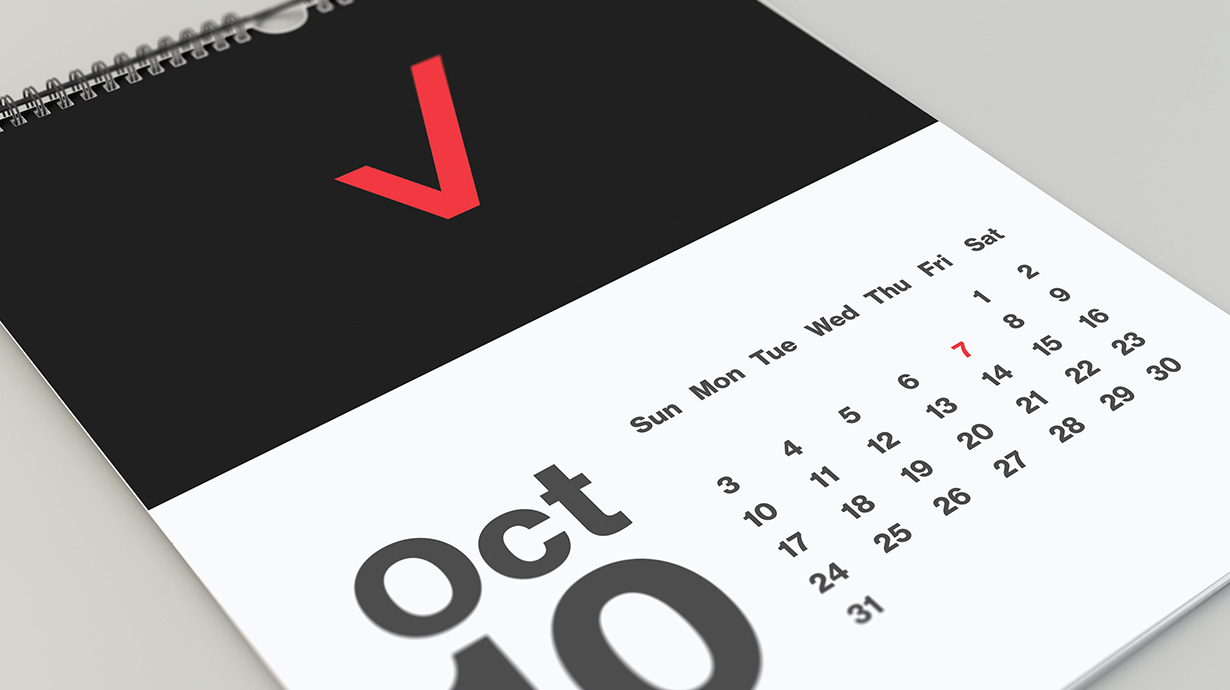 The key October dates to know.
[ad_1]
In today's episode, hosts Matt Fiedler and Andrew Testa shared some of the many special days, events, and groups of people we celebrate throughout the month of October.
5G extension
Verizon is bringing 5G to more people and more places with an expansion that includes:
5G home internet and 5G business internet are now available in parts of three new cities (the graph should read: Birmingham, AL; Fort Wayne, IN and Oklahoma City, OK). This means that 5G Home is now available in 60 cities and 5G Business Internet is available in 57 cities.
Meanwhile, ultra-broadband 5G mobility will be available later this month in parts of 5 new cities (the graph is expected to list Jacksonville, FL; El Paso, TX; Dayton, OH; Scranton, PA; and Tacoma, WA). This means that 5G Ultra Wideband is now available in parts of 87 cities.
Whether you need to stay connected at home, at work, or on the go, Verizon has you covered.
Customer Service Appreciation Week
While Customer Service Appreciation Week is almost over (October 4-8), it's not too late to reach out and thank our customer service team members and those who support them. We all owe a debt of gratitude to those who do such an amazing job serving our customers every day in store, online or over the phone.
World Mental Health Day
This Sunday (October 10) is World Mental Health Day. Considering that we are still in the midst of a pandemic, this is a good reminder for all of us to calm down. You can help those who are struggling by writing a letter of Hope and Healing. You don't have to be a professional writer and that counts towards your volunteer hours. Visit the Volunteer Portal for more details.
International Day of the Girl
Next Monday (October 11) is International Day of the Girl Child. Make sure to watch Up To Speed ​​that day, as Raquel Wilson will be visiting a related point of interest in New York City.
One way to mark this special day is to attend the Women's CoLab launch event starting at 12 p.m. ET / 9 a.m. PT. In a year that has been so difficult for women and their careers, Women's CoLab offers resources to inspire women to enter, stay and thrive in the workforce. You can subscribe to the list for more details on the Women's CoLab page and you can also follow CoLab on Twitter, LinkedIn and Instagram today!
Hispanic Heritage Month
Friday, October 15 marks the end of Hispanic Heritage Month. As part of Up To Speed ​​Day, Consumer Group leader Ronan Dunne will host a panel with SOMOS employees who will share their immigrant stories. And if you haven't seen the most recent episode of Enterate, be sure to watch it. In the meantime, check out the SOMOS Employee Resource Group for a full list of events.
3rd quarter results
On Wednesday October 20, we will announce our third quarter results. Be sure to tune in to the live webcast to hear all the latest news from Hans, Matt and company executives.
Awareness and prevention of domestic violence
On Thursday, October 21, we will be celebrating National Domestic Violence Awareness and Prevention Month with a special episode of Up To Speed. Visit the Volunteer Portal to find out how to support this important cause, including offering words of encouragement through letters or pictures to survivors, including children. And please donate to the VtoV Employee Relief Fund to help employees who have been affected by domestic violence.
Celebrate our first responders
October 28 is National First Responder Day, which is close to the hearts of many V Teamers. Special thanks to all of the V Teamers who volunteer their time, as well as our Verizon Response Team, for all of their efforts during several crises this year.
National Disability Employment Awareness Month
October is also the month when we officially recognize the many contributions of people with disabilities in our workplaces and continue to push for greater inclusion. Check out our ADVANCE employee resource group to find out how you can get involved and related events, including our upcoming accessibility summit and a fireside chat with Hans.
Don't forget to "secure" these dates
Let's not forget that October is also National Cyber ​​Security Awareness Month and October 25-29 is Document Compliance Week. These are both great reminders to make sure you keep your devices, electronic and paper files secure, and understand how to manage company files.
Breast Cancer Awareness Month
October is also Breast Cancer Awareness Month where we are raising awareness to get tested and fundraise for more effective treatments and possibly a cure.
New t-shirts
Speaking of Breast Cancer Awareness Month, you might have seen Diana wearing a similar t-shirt on Monday's episode of Up To Speed. If you are interested, it is available in our branded store, and the proceeds will be used to support the cause. There are also new shirts highlighting domestic violence awareness, all of our employee resource groups and more.
A haunted end to a big month
While we're on the fashion theme, let's not forget that Halloween is just around the corner. Get to work on these costume ideas!
Tell us what you think of Up To Speed.

[ad_2]